Hall of fame
Hall of fame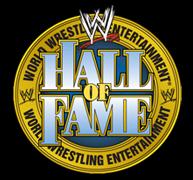 Le WWE Hall of Fame (anciennement WWF Hall of Fame) est une institution qui honore d'anciens employés de la World Wrestling Entertainment (anciennement World Wrestling Federation) et d'autres figures qui ont contribué au catch et au divertissement sportif en général.
   Le Hall of Fame est créé en 1993 avec l'introduction de l'ancien de la WWF André the Giant, qui est mort plus tôt dans l'année. D'autres membres y étaient ajoutés chaque année jusqu'en 1996 alors que les cérémonies de 1994 et 1995 étaient organisées à l'occasion du week-end du King of the Ring, pour que l'institution soit ensuite mis en pause jusqu'à son retour en 2004 pour commémorer le vingtième WrestleMania.
   Pour pouvoir faire partie du Hall of Fame, un candidat doit déjà bien-sûr être en bons terme avec la WWE. Ce qui déjà exclut certaines légendes, comme Bruno Sammartino, qui a dit que le Hall of Fame n'est rien d'autre qu'une farce, comme des non-catcheurs comme Pete Rose y sont introduits. Le processus par lequel les introduits sont sélectionnés n'est pas transparent; le critère d'introduction n'a jamais été révélé. Bien qu'en théorie le Temple de la Renommée honore ceux qui ont eu d'importantes carrières à la WWE, depuis sa renaissance en 2004, quelques introduits comme Harley Race, Verne Gagne et Nick Bockwinkel, ont achevé la plus grande partie de leur succès en dehors de la WWE, des compagnies qui ont depuis été rachetées par la WWE.
   Depuis 2007, Harley Race, "Big Cat" Ernie Ladd, Verne Gagne, Terry Funk, Dusty Rhodes et Big John Studd sont les seuls catcheurs à avoir été introduits dans les deux WCW Hall of Fame et WWE Hall of Fame.
1993
1994
Jay Strongbow

Arnold Skaaland

Bobo Brazil

Freddie Blassie

Buddy Rogers

Gorilla Monsoon

James Dudley
1995
Fabulous Moolah

Ivan Putski

Antonino Rocca

The Grand Wizard

George Steele

Ernie Ladd

Pedro Morales
1996
Captain Lou Albano

Killer Kowalski

Baron Mikel Scicluna

Johnny Valiant

Jimmy "Superfly" Snuka

Johnny Rodz

Pat Patterson

Vincent James McMahon

Jimmy Valiant
2004
Jesse Ventura

Don Muraco

Tito Santana

Billy Graham

Big John Studd

Pete Rose

Sgt. Slaughter

Greg Valentine

Bobby Heenan

Harley Race

Junkyard Dog
2005
Paul Orndorff introduit par Bobby Heenan

Iron Sheik introduit par Sgt. Slaughter

Nikolai Volkoff

Bob Orton introduit par Randy Orton

Jimmy Hart

Roddy Piper introduit par Ric Flair

Hulk Hogan introduit par Sylvester Stallone
2006
Bret "The Hitman" Hart introduit par Stone Cold Steve Austin

Eddie Guerrero introduit par Chris Benoit, Rey Mysterio , Chavo Guerrero et Vickie Guerrero

Gene Okerlund

"Sensational" Sherri

Verne Gagne introduit par Greg Gagne

The Blackjacks

William "The Refrigerator" Perry

Tony Atlas
2007
"The American Dream" Dusty Rhodes introduit par Cody Rhodes et Goldust

"Mr. Perfect" Curt Hennig introduit par Wade Boggs

Jerry "The King" Lawler introduit par William Shatner

Nick Bockwinkel introduit par Bobby Heenan

Mr. Fuji introduit par Don Muraco

The Sheik introduit par Rob Van Dam et Sabu

The Wild Samoans (Afa et Sika) introduits par Samula & Matt Anoa'i

Jim Ross introduit par Stone Cold Steve Austin
2008
Ric Flair introduit par Triple H

Rocky Johnson et Peter Maivia introduits par The Rock

Mae Young introduite par Pat Patterson

Eddie Graham introduit par Dusty Rhodes

The Brisco Brothers (Gerald & Jack) introduits par John "Bradshaw" Layfield

Gordon Solie introduit par Jim Ross
2009
Stone Cold Steve Austin introduit par Vince McMahon

Ricky "The Dragon" Steamboat introduit par Ric Flair

Terry Funk et Dory Funk Jr. introduits par Dusty Rhodes

The Von Erich Family introduite par Michael Hayes

Bill Watts introduit par Jim Ross

Koko B. Ware introduit par The Honky Tonk Man

Howard Finkel introduit par Gene Okerlund
2010
Antonio Inoki introduit par Stan Hansen

"Million Dollar Man" Ted DiBiase introduit par Ted DiBiase Jr et Brett DiBiase

Wendi Richter introduite par Roddy "Rowdy" Piper

Mad Dog Vachon introduit par Pat Patterson

Stu Hart introduit par Bret Hart

Gorgeous George

Bob Uecker